Pioneering Women of HRH
Today, PATH Intl. Certified Professionals number in the thousands. But in the early '70s, there were only a couple dozen members and a decade later barely a couple hundred. How did these early pacesetters manage to lay the foundation for an organization that would become the global authority, resource and advocate for equine-assisted activities and therapies (EAAT) and equines in the 21st century? Find out in their own words how they helped to grow PATH Intl. into a highly respected professional association and industry leader and how they continue to promote diversity, opportunity, compassion and excellence in the EAAT field.
Below we are highlighting two Pioneering Women from New Jersey.  Click on the photos to read more.
Octavia Brown, a professor of equine studies and director of therapeutic riding at Centenary University in Hackettstown, NJ, is a PATH Intl. Certified Master Instructor.
Brown founded the Somerset Hills Handicapped Riders in Oldwick, NJ (now Mane Stream), in 1972, co-founded Health and Recreation through Horses of New Jersey in 1980 and founded Therapeutic Riding at Centenary, a PATH Intl. Premier Accredited Center (PAC) in 2003.
She was honored in 1982 as NJ Horse Person of the Year and received the PATH Intl. James Brady Professional Achievement Award and the Directors' Award.  In 2008, she and Karen Bocksel received the PATH Intl. President's Award for their work in producing a training video for volunteers and for instructors seeking PATH Intl. certification.
Barbara Isaac made a promise to her father shortly before he died. She told him she would create a therapeutic riding program, and that would be her legacy.  Her father had always encouraged her to make something of her life and to follow her dreams.  In 1979, Isaac founded the Handicapped High Riders Club at her Riding High Farm, and now, with the planned acquisition of the farm by the HHRC Board of Directors, the continuance of the program is assured.
Born and raised in Brooklyn, N.Y., Isaac said she was "born with the pony gene," although she had no exposure to horses until she was in high school.  She and a high school friend took riding lessons at Teevans Riding Academy in Prospect Park in Brooklyn.   At the time, Isaac recalled, a bridle path ran all the way from Prospect Park to Coney Island.
After high school, Isaac married and she and her husband, Hanen, adopted three children, Joseph, Paul and Sue Ann. They moved to New Jersey in the mid-1950s, and eventually built a house in Colonia in Woodbridge Township.  Isaac worked as a bookkeeper for a law firm, but wanted to have a business of her own. Her young son, Paul, was interested in horses, and one day she saw a classified ad: "Partners Wanted — Horse Ranch — Trail Riding — Snack Bar."
She answered the ad and a career was born.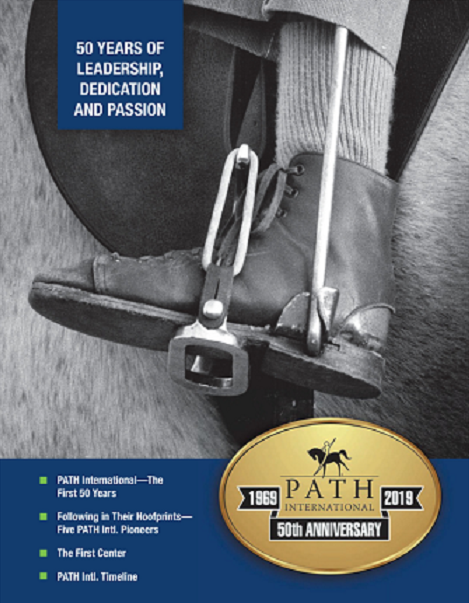 STRIDES MAGAZINE
Strides magazine is published by PATH Intl. and has some great features on the history of the organization, plus some of the amazing people who have contributed and the PATH Intl. programs.
Click here to link to the 50th Anniversary issue online.