December 2021
Unicorn Therapeutic Riding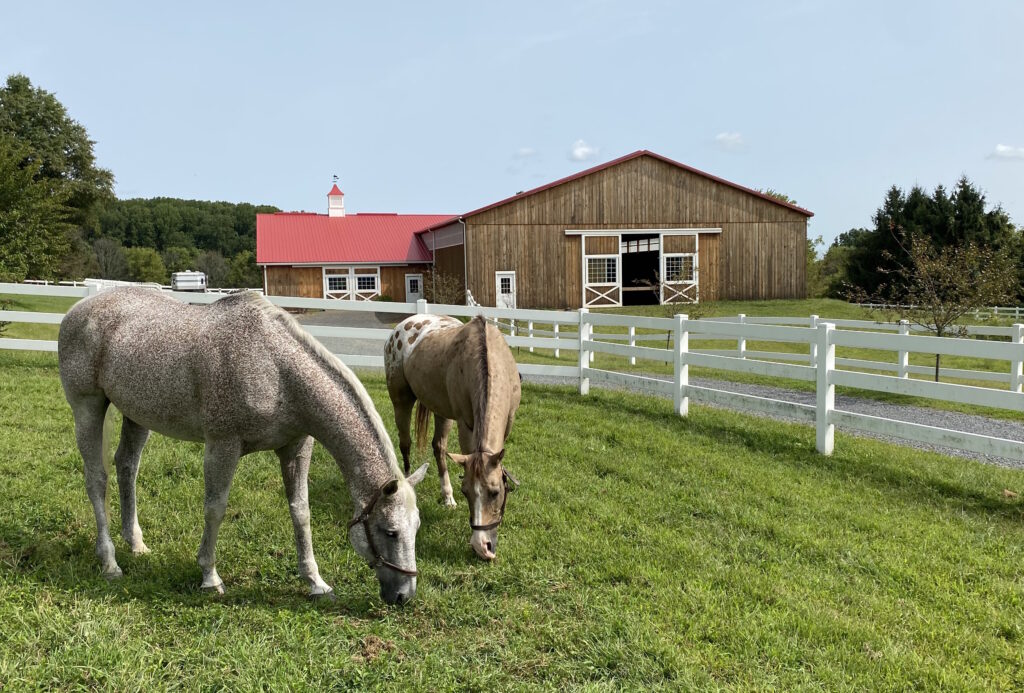 Unicorn Therapeutic Riding was founded by Erin Hurley, OTR/L in 1988 in South Jersey where it operated until 2008. After a ten year hiatus, Unicorn re-opened at their newly built facility in Pennington, NJ.  
Unicorn is a PATH Intl. Premier Accredited, 501©3 non-profit organization that aims to facilitate growth and rehabilitation through equine-assisted activities for children and adults with a wide range of capabilities. We provide adaptive riding lessons, using modified teaching strategies and equipment, to help our students learn riding and horsemanship skills through instruction from our staff of PATH CTRI certified instructors, a dedicated group of volunteers, and Physical and Occupational Therapists.
Every day at Unicorn we have the privilege of experiencing first-hand the benefits of therapeutic horseback riding by watching our students achieve goals they never thought possible— the child who didn't say a word until they got onto the horse and went outside for a walk, the young woman we helped out of her wheelchair then watched walk away smiling on the back of a horse, or the child we celebrated with as we search for a new helmet because her hair was growing back and she didn't need her scarf anymore— there is truly nothing in this world more rewarding than watching horses change the lives of these amazing individuals!
Today, Erin serves as the President of HRH of New Jersey, alongside Lynn Zahn, a Unicorn CTRI and HRH secretary, and Sara Cohen, MS, OTR/L, a Unicorn CTRI and the New Jersey State Chair for PATH International.
---
November 2021
Kaleidoscope Therapeutic Riding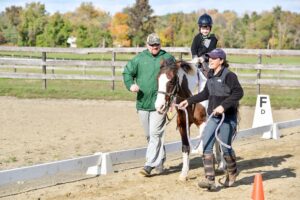 Kaleidoscope Therapeutic Riding Program is located in Medford, NJ at Flora Lea Farm. The family owned and operated farm also runs a traditional lesson program, horse leasing and boarding, as well as several annual horse shows.
The therapeutic riding program services children as well as adults. Young riders are introduced to riding skills through games. The mood of the program is fun, while maintaining safety for people and horses. Riding at Kaleidoscope focuses on the feeling of recreation. Students are encouraged to try new things and enjoy their horse time with lots of smiles.
Riders are encouraged to be as independent as possible when riding as well as learning skills to care for their horses. When possible students learn to groom, tack and even lead their horses. Some students have been able to cross over and also become volunteers to assist with other riders.
---
October 2021
Freedom Horse Farm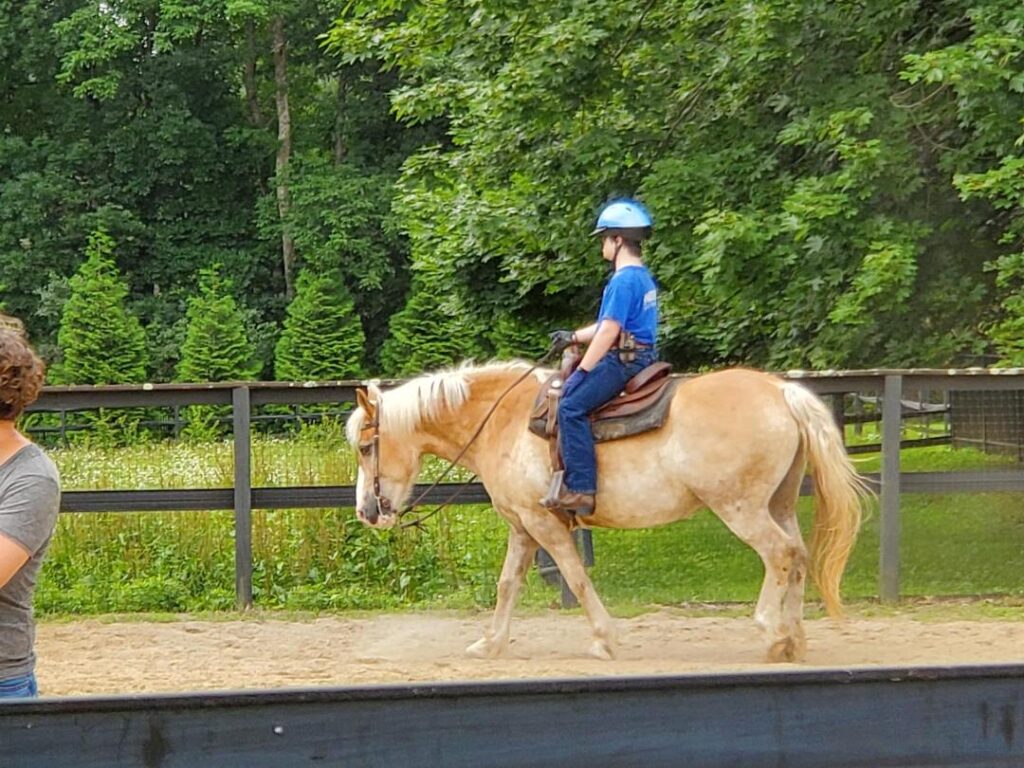 Freedom Horse Farm is located in Long Valley NJ and was formed in 2009 to offer horses as partners in therapy. We are a small private facility and offer adaptive riding, traditional riding, equine assisted learning and a veterans program. We offer private lessons as well as group lessons. Group lessons are limited to two riders in the ring. We do have a monetary assistance program, thru Freedom Horse Inc., they assist those that would benefit from the activities at Freedom Horse Farm but need assistance with payment. Visitors are always welcome, but we do ask you to set up an appointment as some of the lessons are private. Contact us for more information at 908-797-4547.
---
September 2021
Chariot Riders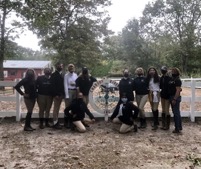 Chariot Riders is a registered non-profit organization that is accredited by the Professional Association of Therapeutic Horsemanship International (PATH Intl.). Our facility is in Manchester, NJ. We service individuals as well as public and private schools. In addition to our lesson program, we also offer equestrian camps, in house and off premises horse shows, year-round riding in an indoor arena, IEA meets and activities, and group trips/activities. Riding lessons are taught by PATH Intl. certified staff using our specially trained horses. Riding students will be introduced to basic riding skills in a safe and secure environment. Lessons are booked individually based on rider ability and instructor availability.
The Chariot Riders riding program operates year-round, Monday – Saturday by appointment. Schools/group sessions are ongoing throughout the year.
Chariot Riders' mission goes beyond helping people learn to ride horses; we help people experience success. We work with children and adults who often face serious physical, emotional, or social challenges, and we help them to discover their own strength, beauty, and talent. We love our work at Chariot Riders, and we cannot do it without your help! As a volunteer, you will become a vital part of the program, working directly with horses, riders, Chariot Riders staff, and other volunteers. You will share in the large and small triumphs of our riders as they experience "the miracle in the movement" of therapeutic riding.
The mission of the Chariot Farm IEA Team is to provide a team experience for the equestrian athlete and to bring together on common ground equestrians at every level of the sport. Our goal for our team athletes is for the team experience to help them increase their skills, knowledge, and ability to work within a team atmosphere, while creating a social support system for a sport that otherwise is very individual. Our fundamental goal is to provide a fun opportunity for our team members that introduces them to competing on a national competition program and to build friendships. For those interested in riding in college, we work to train our athletes to prepare them for a collegiate competitive experience.
---
August 2021
Mane Stream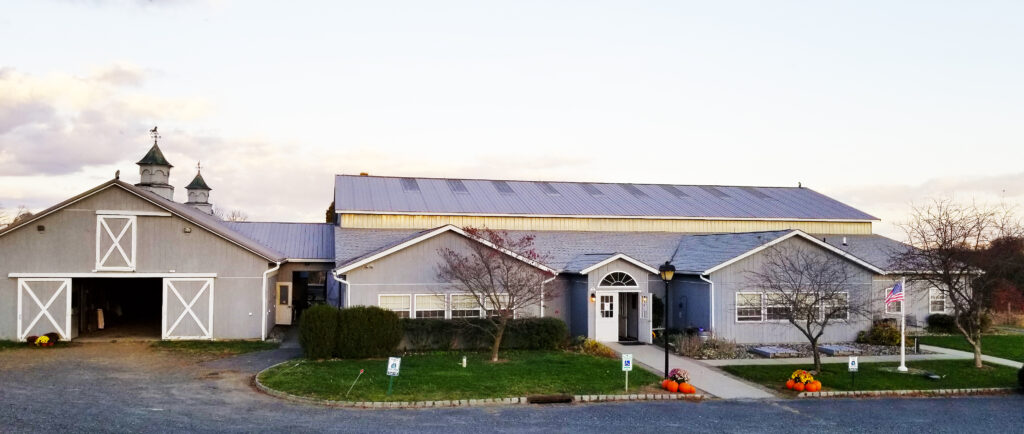 For almost 50 years Mane Stream has provided programs for children and adults with special needs throughout central New Jersey, making us the second oldest program in the country. Founded by Octavia Brown on a backyard farm in Bedminster, Mane Stream has grown to a 12 acre farm in Oldwick with 13 horses serving almost 400 participants annually. In addition to our core programming of adaptive riding and therapy services, Mane Stream offers a summer camp for children of all abilities, programs for individuals living with cancer, senior adults with dementia, children coping with grief, individuals in recovery, school groups, scout troops and other community groups who can benefit from interaction with our specially trained staff and horses. Volunteers are an important and essential part of Mane Stream's programs and we welcome everyone aged 14+ to be a part of our vibrant volunteer program.
To learn more about our programs and our amazing riders, clients, campers, staff, volunteers and herd visit our website at www.manestreamnj.org and check out our social media https://www.facebook.com/ManeStreamFarm/ or https://www.instagram.com/manestreamnj/ or https://www.youtube.com/channel/UCXA7kK3drgVzd3EOM9po7zA.
---
July 2021
Special Strides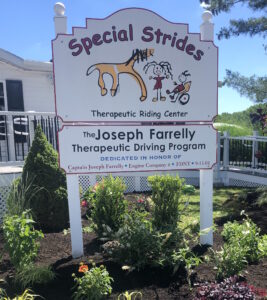 Special Strides: Therapy, Recreation and Education on a farm.
Harvesting Hope… Breaking Boundaries… Realizing Potential.
Located on the beautiful 200 -acre Congress Hill farm, in Monroe NJ, Special Strides was established in 1998 to provide therapy, recreation and education utilizing the motion and e-motion of our amazing herd of 15 horses.
Physical therapists, occupational therapists and speech language pathologists provide specialized therapy services incorporating hippotherapy (equine movement), sensory motor processing, and functional skill training into every 45- minute therapy session. Our talented adaptive riding instructors adapt their teaching methods to meet the learning needs of our clients to allow them to follow their recreational pursuits and become the equestrians of their dreams. Our ground based educational model stimulates individuals to find their passions and confidence alongside the horse instead of on top; learning about grooming, leading, communicating and training.
All of this is possible due to the hard work of our dedicated staff of therapists, riding instructors, horse handlers, volunteer side walkers, office staff, our herd of 15 wonderful horses and our donors. We are a non- profit organization dedicated to improving the lives of all the individuals who come to us needing our programs and services. We raise monies throughout the year to support our robust financial assistance program enabling 50% of our client base of 110 individuals to receive the benefit of therapy, recreation or education at Special Strides.
Individuals of all ages participate in programs and services at Special Strides. From 2 years to 82 years, you can find clients working alongside or on top of horses, exploring the wooded trails, interacting with our sensory motor play equipment and learning about themselves at every turn.
To find out more about or programs and services visit our website at www.specialstrides.com, call the office at 732-446-0945 or email us at [email protected] To see a video of Special Strides in action, click here!
---
June 2021
Therapeutic Riding at Centenary (TRAC)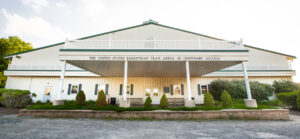 Therapeutic Riding At Centenary (TRAC) is recognized as a Premier Accredited Center and Higher Education Member by PATH Intl. Our mission is to provide equine-assisted services (EAS) to individuals with special needs and to develop leaders for the EAS-industry.
TRAC is housed at the Centenary Equestrian Center, Long Valley NJ. Through our therapeutic riding and horsemanship program, we serve children and adults with disabilities. Through community partnerships, we also serve youth in our community who benefit from additional opportunities and support to achieve success. Through Operation Centaur, our well-established veterans' program, we also provide the benefits of EAAT to military veterans and their family members.
Centenary University's Equine Studies Department offers an 8-credit (2-Semester) Instructor Training course that allows matriculated and non-matriculated students to complete all practical requirements for the PATH Intl. Certified Therapeutic Riding Instructor (CTRI) application through TRAC. Students also prepare to succeed at the CTRI written exam with targeted test prep. We hold remote and on-ground open houses for our Instructor Training program. We strive to provide safe, effective and fun services, as well as great learning opportunities for student instructors!
For more info, contact Karen Brittle, Director of TRAC, at [email protected] or 908-852-1400, ext. 2174. Website: http://centenaryuniversity.edu/TRAC
---
May 2021
Special People United to Ride (SPUR)
SPUR, located at Sunnyside Equestrian Center, is home to the Monmouth County Parks System's Equestrian Division in Lincroft, New Jersey.
All of us at SPUR are especially honored to be the HRH Center of the Month as we are celebrating our 40th anniversary!
Sunnyside Equestrian Center is a place where disabilities fade at the front door. Along with our talented instructors and over 100 dedicated volunteers SPUR is designed to enhance and nurture the "ABILITIES" of our amazing riders.
At SPUR we take great pride to be part of the HRH community. We believe at this difficult time it is important to support each other and our fellow centers. The therapeutic industry is the key to the health and wellbeing of the people in our communities that needs us most. Our hopes is that we will ALL continue to thrive because it is just too important not to!
Please visit our website at www.spuronline.org to learn more about the SPUR programs, our instructors, dedicated volunteers, the SPUR Board, and to meet our amazing herd of horses. Keep an eye out on the SPUR Facebook page at www.facebook.com/SpecialPeopleUnitedtoRide for information on our upcoming events.